The Finest Plumbers in Surprise, Arizona

Surprise lived up to its name in 2004 when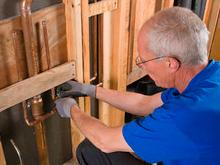 its population increased more than seven fold. The new construction in the town was frenetic. With this speedy building there were bound to be shortcuts taken and mistakes made. Fortunately, we're here to fix just such problems. Our plumbers in Surprise have seen several new construction plumbing leaks and know exactly what signs to look for. When you have an emergency, or if you have this inkling feeling that there may be something wrong behind your walls, give us a call.

We Believe in Preventative Plumbing Maintenance

Our skilled Surprise plumbing team does plumbing inspections on a daily basis. We would rather that you call us before you have a pool of water in your kitchen so we can prevent it from happening in the first place. The sad truth is that you are probably here because you never thought that a plumbing emergency would happen to you and now you're looking for a fast, quality fix. Well, we do that too. We are a full service plumbing team with the knowledge and tools to fix everything from a garbage disposal on the fritz to a tankless water heater installation.
We're Not Your Average Plumber

Don't be too surprised when our guys show up at

your door. Our Surprise plumbing associates are far from the stereotypical plumber. Our equipment is top of the line, our vans are immaculate, and our techs are even better. While they may look like the high school AV club with new toys, these are highly trained expert plumbers. They are able to quickly detect and solve hidden plumbing issues before they make themselves known in a costly way.
Our Surprise plumbing crew commits to the following:
To Respond Quickly and Effectively to Emergencies
To Give Only Top Quality Service
To Be Honest and Fair With You
To Answer All Questions in Plain English
Never to Upsell to You
To Always Advise You with Your Interests at Heart
---
We Also Handle Commercial Plumbing in Surprise AZ
It takes a lot to offer commercial plumbing service. Our commercial plumbers work around busy schedules to service large scale plumbing equipment, offer fast emergency repairs for commercial property bathrooms, and design around exacting specifications for new restaurant kitchen build outs. Our commercial service offerings cover a lot of ground, including commercial HVAC needs like commercial refrigeration, so you'll always know who to call. Speak with us today for a bid on your commercial plumbing needs in Surprise, AZ.
Fast & Effective Drain Cleaning is Our Specialty

There is more than one way to clear a drain, but only one way that's right for your drain. Whether it's a drain snake or a hydrojet, we'll only use the safest, most effective methods for your drain cleaning needs. Speak with a specialist today to schedule your drain cleaning in Surprise AZ.
Call A Trusted Plumber in Surprise AZ Today!
Now's the time to pick up the phone and speak with a plumber about your specific needs. Whether you have questions or you're ready for a bid, we're happy to help.

---